Cruising the Future: Introducing MOKE's Electric Vehicles
September 17 2023 – Natalie Harvey
In the ever-evolving world of electric vehicles, MOKE has emerged as a distinct player with its unique approach to sustainable transportation. Known for their iconic, open-air design, MOKE EVs are more than just vehicles; they're a statement of style, sustainability, and adventure. In this blog post, we'll take a closer look at MOKE's electric vehicles, exploring their history, features, and what makes them stand out in the world of eco-friendly transportation.
The Resurgence of an Icon
MOKE's history dates back to the 1960s when the original Moke was designed as a compact utility vehicle for the British Army. Over the years, it gained popularity as a recreational vehicle, celebrated for its simplicity, durability, and iconic design. In 2020, MOKE reimagined this classic as an electric vehicle, marking its entry into the modern era of eco-friendly mobility.
Design That Turns Heads
One of the standout features of MOKE EVs is their design. These vehicles retain the charming and timeless aesthetics of the original Moke while integrating modern technology. With its open-top design, round headlights, and minimalistic appearance, the MOKE EV exudes a sense of carefree adventure. It's available in a range of vibrant colors, allowing owners to express their individual style.
Electric Powertrain
Under the classic exterior, MOKE EVs house a cutting-edge electric powertrain. These vehicles are emission-free and designed to be environmentally conscious. The electric motor provides a silent and smooth driving experience, making urban commutes and leisurely drives equally enjoyable. With a fully charged battery, MOKE EVs offer a practical range suitable for daily use.
Customization Options
MOKE understands that personalization is key to a unique driving experience. They offer a variety of customization options, including different seat materials, wheel choices, and MOKE EV luxury custom floor mats and accessories. Whether you prefer a vintage look or a more contemporary feel, MOKE allows you to tailor your vehicle to your taste.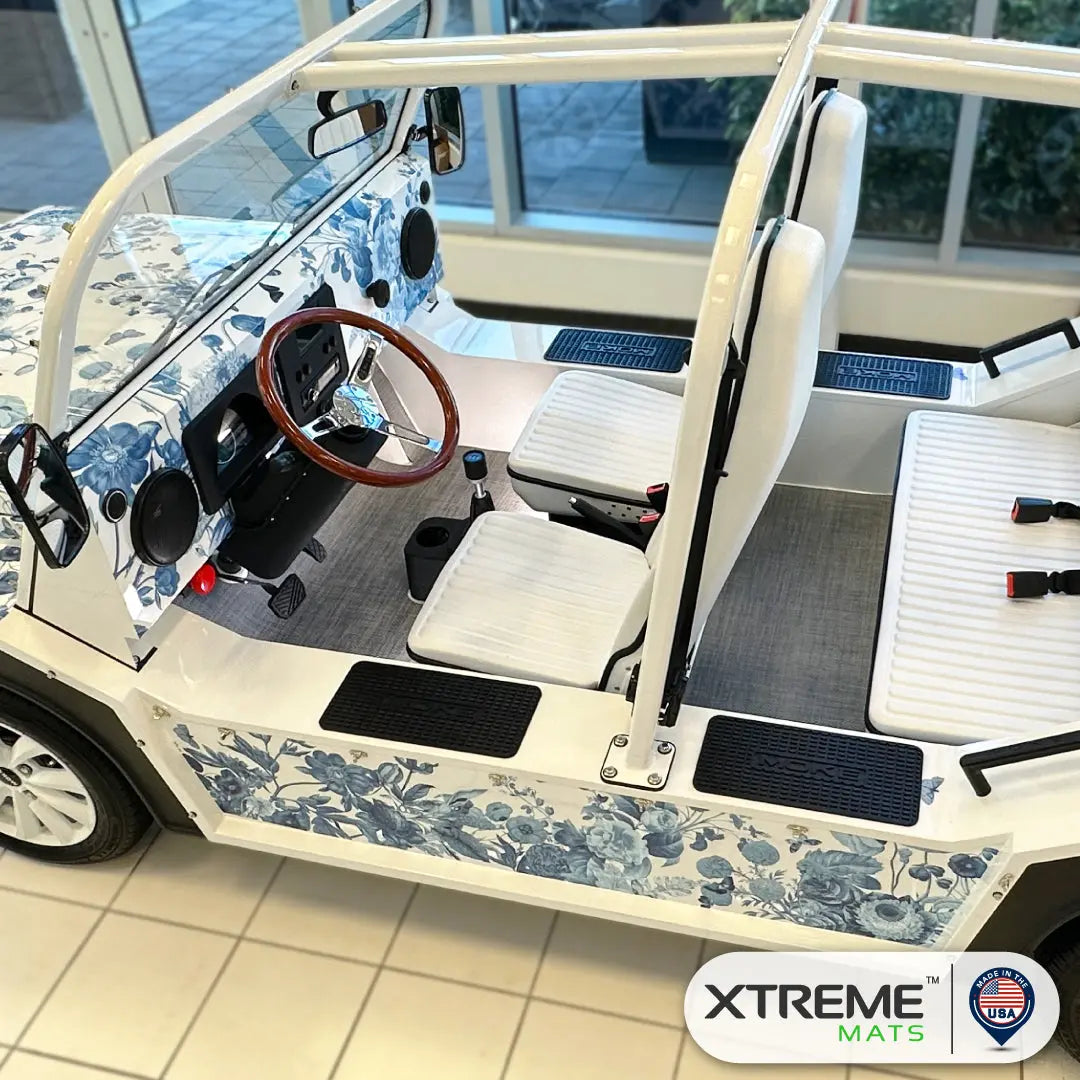 Open-Air Freedom
One of the most appealing aspects of MOKE EVs is the open-air driving experience. With the roof off and the wind in your hair, every journey becomes an adventure. This sensation of freedom sets MOKE apart from many other electric vehicles and is particularly attractive to those seeking a connection with the outdoors.
Urban and Resort Mobility
MOKE EVs are well-suited for both urban commuting and resort transportation. In city traffic, their compact size and agility make parking and maneuvering a breeze. At resorts and beachfront properties, they offer a fun and eco-friendly way to explore the surroundings while adding a touch of elegance to the experience.
The Future of Sustainable Transportation
As society increasingly embraces sustainable living and transportation, MOKE's electric vehicles represent a refreshing and stylish alternative. They blend the nostalgia of the past with the innovation of the future, making a statement about eco-conscious choices without compromising on style or functionality.
In conclusion, MOKE EVs are more than just vehicles; they are an embodiment of an adventurous and sustainable lifestyle. With their unique design, electric powertrain, and customization options, they have carved out a niche in the world of eco-friendly transportation. Whether you're cruising through the city or exploring a coastal paradise, MOKE's electric vehicles offer a delightful and eco-conscious way to journey into the future.