Free Shipping On All Orders*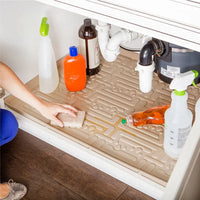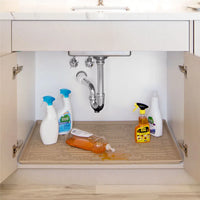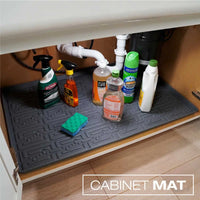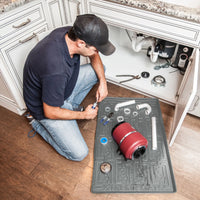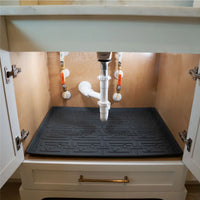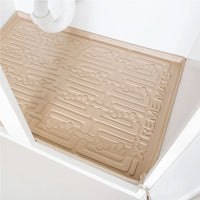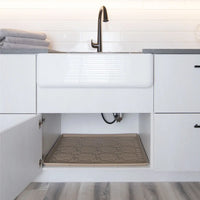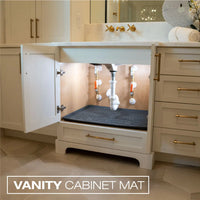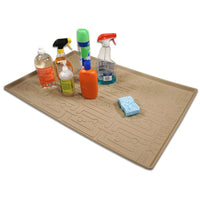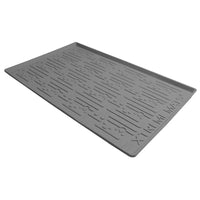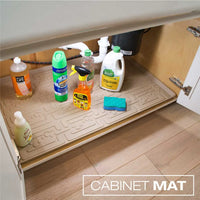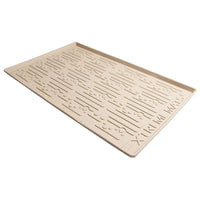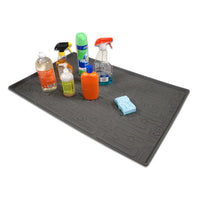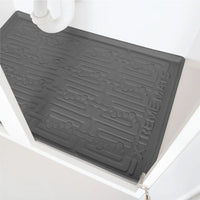 Under Sink Cabinet Mats & Liners for the Kitchen, Bath, and Laundry Cabinets
Regular Price

$34.95

Sale Price

$34.95

Regular Price

$34.95

Unit Price

per
Unlimited water sensors for 25% off with the purchase of a cabinet mat
FEATURES:

Holds 1.3 to 3.6 gallons of liquid in the event of a product spill or leak
Unmatched protection against sink leaks, soap spills, water damage and more
Modern design, no VOC or off-gassing
Angled sides and rear wall ensure a snug fit
Water sensor location on all mat designs
Eco-Friendly low-density polyethylene construction allows for flexibility and durability
Textured surface to keep items off the bottom of the mat should anything leak
Drip tray, under sink cabinet mat, and a shelf liner all-in-one
The mat dimensions should not be larger than your interior cabinet dimensions or it will be too large to fit. 
SIZING GUIDE link for help finding the right size.
BEFORE ORDERING: MEASURE THE INSIDE OF YOUR CABINET AND MAKE SURE YOUR SUPPLY LINES AND DRAIN AREN'T COMING FROM THE FLOOR OF YOUR CABINET OR ELSE THE MAT WILL REQUIRE MODIFICATION. (See modification video below)
Our under-sink mats protect your cabinets and floors from damage caused by plumbing leaks, stains, scratches, product or chemical spills, and much more. Xtreme Under-Sink Mats can hold up to 3.6 gallons of liquid in the event of a leak or product spill, making our mats the leader in the industry. Our mats are flexible and produce no toxic VOC's. Xtreme Mats are easy to install and can be removed quickly for clean-up. Our under-sink cabinet mats are the perfect solution for messy, dirty, or disorganized cabinets. Xtreme Mats keep water and other liquids from seeping in the cabinets, lessening the chance of water damage and potential mold and mildew issues caused by prolonged leaks. When you purchase an under-sink cabinet mat from Xtrememats.com you will enjoy FREE shipping*!
Reviews