Free Shipping On All Orders*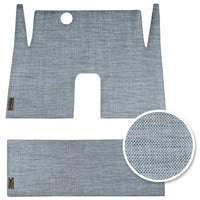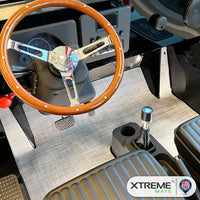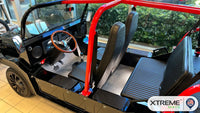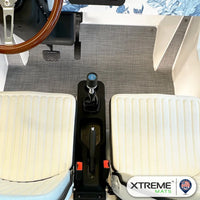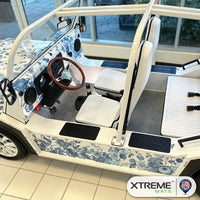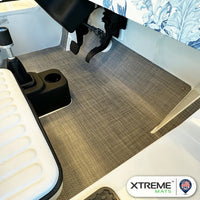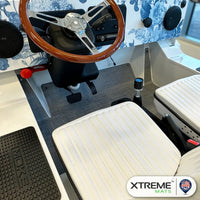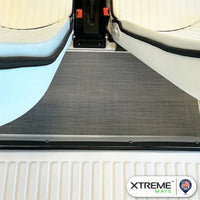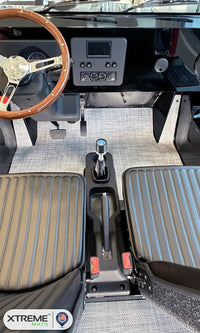 Premium Moke Floor Mats Set- 1st & 2nd Row Mats - Fits Moke Electric Vehicles
Regular Price

$274.95

Sale Price

$274.95

Regular Price

$700.00

Unit Price

per


Full coverage overlay style 2-piece floor mat set for MOKE Vehicles.
Introducing the Xtreme Mats Premium Moke Floor Mats Set - the must-have accessory for your Moke Electric Vehicle. Your Moke deserves the best, and here's why you need to make these premium floor mats your next purchase:

1. Unmatched Protection: When you own a Moke, you know that adventure is your middle name. Protect your vehicle's interior from the elements, whether it's sand from the beach or mud from the trail. Xtreme Mats have you covered, offering unparalleled protection for your Moke's flooring.

2. Perfect Fit: These mats are precision-engineered to fit your Moke's 1st and 2nd rows perfectly. No annoying shifting or sliding around, ensuring a secure fit that stays in place no matter where your Moke takes you.

3. Durability Meets Style: High-quality waterproof cool touch material made out of Woven vinyl with PVC backing, these mats are designed to last. They're not just functional; they're stylish too, adding a touch of elegance to your Moke's interior. Elevate your driving experience to a whole new level.

4. Easy to Clean: Life is messy, and so are adventures. Xtreme Mats are easy to clean, allowing you to spend more time enjoying your Moke and less time worrying about the aftermath of your escapades. Just remove them, rinse them off, and you're good to go.

5. Resale Value: Protecting your Moke now means preserving its value for the future. When it's time to upgrade or sell, potential buyers will be impressed by your attention to detail and commitment to maintaining your vehicle.

6. Adventure-Ready: Whether you're heading off-road or cruising through the city streets, these mats are your trusty companions. They're slip-resistant, ensuring safety even on the wildest journeys.

Don't settle for less when it comes to your Moke Electric Vehicle. Invest in the Xtreme Mats Premium Moke Floor Mats Set today and experience the ultimate combination of protection, style, and durability. Your Moke deserves nothing but the best, so don't wait—enhance your driving experience now!
Created by Xtreme Mats exclusively for Moke America vehicles, these floor mats are  digital laser cut, ensuring they fit your Moke perfectly. The mats will secure to metal flooring by integrated high-strength magnets. 
Full coverage, waterproof floor mats. 
2-piece floor mat set, overlay style.
Color: Platinum Grey
FEATURES:
Custom Xtreme Magnets for securing the mat (Included; no tools required)
Laser-measured for a snug fit around the pedals, gear shifter, and seat base
Waterproof cool touch material made out of Woven vinyl with PVC backing
FIT NOTES:
This golf cart floor mat set fits all MOKE Electric Vehicles only
This is a set. It includes 2 mats: one for the front row and one for the 2nd forward-facing row
OEM MOKE rubber mats must be removed prior to installation
Installs on top of factory flooring
Factory/OEM flooring required for installation
INSTALLATION NOTE: All Moke Vehicle mats can be installed with magnets holding down the front row mat from under the top four corners from under the dash.
Reviews