Free Shipping On All Orders*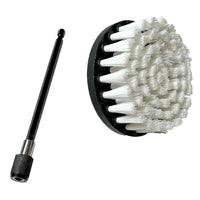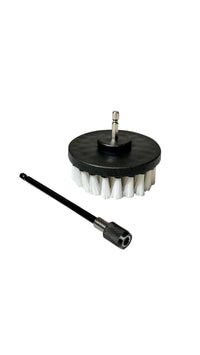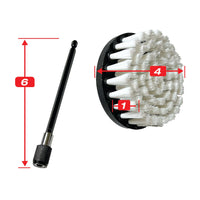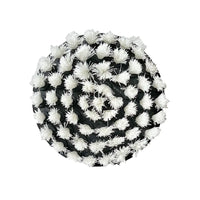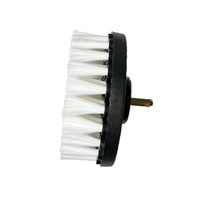 Golf Cart Floor Mat Cleaning Brush - 4" Drill Brush Attachment with 6" Quick Change Extension Bar
Regular Price

$21.00

Sale Price

$21.00

Regular Price

Unit Price

per
SAFELY CLEAN & AGITATES DIRT FROM NON-POROUS & POROUS SURFACES - Our Drill Brush is an essential detailing tool for any golf cart care enthusiast. This gentle cleaning accessory gives you the "elbow grease" you need to remove tough stains, soils, and impacted dirt quickly without damaging your hands or floor mat.

ATTACHES TO ANY DRILL TO CLEAN RUBBER FLOOR MATS, CLOTH SEATS, GOLF CART ENCLOSURES, LEATHER, AND MORE - The Drill Brush allows for high-speed rotation from your household, battery-powered drill to extract spots, stains, and soils from your surfaces with ease. Our drill brush features rugged steel, quarter-inch hex head, and included 6" extension bar with quick change shaft - Fits drills & drivers.

100% POLYPROPYLENE BRISTLES, CHEMICAL-RESISTANT - Our Drill Brush features soft, yet stiff polypropylene fibers mated to a durable ABS plastic housing.

LOOSENS AND LIFTS DIRT & DEBRIS - With an ergonomic 4-inch diameter and 1" nylon bristles, you can get deep clean carpets, floor mats, and other more sensitive materials  
Xtreme Mats proudly presents a comprehensive solution for your golf cart flooring. Xtreme Mats has created a FULL COVERAGE golf cart floor mat that is laser-measured to fit as if it came directly from the manufacturer. Our heavy-duty, 8-mm rubber golf cart floor mat remains securely in place even during rugged terrain navigation. Our mats produce no VOCs so you won't have to worry about it stinking up your garage either! Our patented design picks up where the other guys left off. Unlike other golf cart floor mats that offer only partial coverage, Xtreme Mats won't limit where riders can place their feet and you won't end up with a pile of dirt behind your floor mat. Xtreme Mats Golf Cart Floor Mat covers your entire OEM flooring from the bottom of the dash down to the base of the seat. No longer worry about mud, water, or dirt damaging your cart's flooring! Our mission is to extend your cart's lifespan and enhance its value by preserving the original flooring.
Xtreme Mats believes you shouldn't have to compromise function for fashion; our golf cart floor mats offer both. Xtreme Golf Cart Mats are available in all black, red trim, grey trim, blue trim, beige trim, or green trim to complement almost any aesthetic.

Reviews